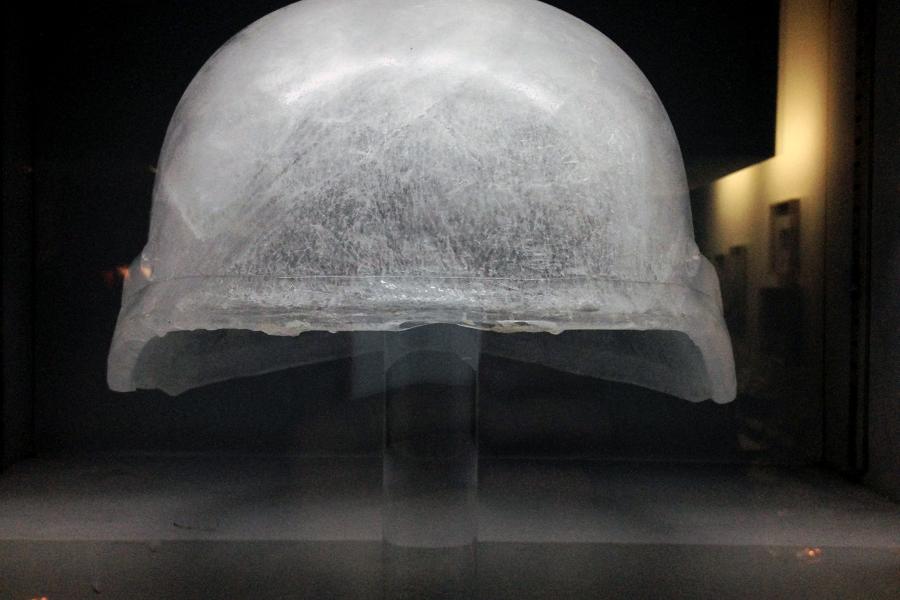 AND SOME PAIN WILL COME
Theatre company Action Zoo Humain and Verbeke Foundation invite multidisciplinary artist Khaled Jarrar to realize his artistic intervention AND SOME PAIN WILL COME on March 26 at the Verbeke Foundation.
Khaled Jarrar's performance can be read as a preview of all the pain that is to come. Jarrar will shoot paint jars targets with a semi-automatic weapon, splashing the paint on the wall, posters and canvases. The work raises questions about the use of weapons, retaliating violence with violence and the position of an artist.
The wall he shoots at refers to the Israeli apartheid wall. On this wall are dilapidated martyr posters as recorded by photographer Sander Buyck, with a QR code you get access to the stories of the specific martyrs.
The symbolic way in which Khaled brings together art and violence challenges the spectators to look differently at the complex relationship between the West and the Middle East, the monopoly of violence and the possibilities for an artist to undermine the system.
AND SOME PAIN WILL COME
Date: 26/03/2023
Start: 9.30 am (due to safety regulations)
Performance: 10-11am
Location: Verbeke Foundation
Tickets: sietske [at] actionzoohumain.be (please note, tickets are limited)
CREDITS CONCEPT & IMPLEMENTATION Khaled Jarrar, Sander Buyck, Wilde Gallery PRODUCTION Action Zoo Humain, Verbeke Foundation PRODUCTION MANAGEMENT Irina Leskovskaya, Sietske de Vries, Tineke Schuurmans WEAPON LICENSE Law firm Vermeiren & Vanden Poel WEAPONS & AMMUNITION DBS Tactical TRANSLATION ARABIC – DUTCH MK Jood 
COURTESY OF Province of East Flanders, Local Police Waasland North, Dirk Jans, Armand Boni, Flemish Government 
Khaled Jarrar 
Khaled Jarrar is an artist (lives and works in Palestine) whose work explores the representations of power sabotaging codes and symbols, as well as the notions of statehood, legitimacy, historical narrative, political authority and most importantly, freedom. Jarrar's work feed important questions about art as a "place" that is capable of supporting activities that could not happen anywhere else thus opening the question of how art affects politics. Art opens therefore space able to make us believe in the freedom to think outside the box: spaces of independent thinking able to explore the imagination of what could be. For instance, with his work State of Palestine, Jarrar's method is one of determining a possible alternate reality of resisting occupation. 
Sander Buyck 
Sander Buyck (Gent, °1984) attended the Royal Academy of Fine Arts in Ghent for his professional and artistic education where he majored in photography. With an aesthetic that is deeply rooted in pictorial art and documentary photography, Buyck translates visual narratives into a personal artistic language. Rather than a mere representation, his photographs are a poetic transformation of reality. Buyck is currently based in Kwaremont, Belgium. His artistic work results in self-published artist books and exhibitions. https://www.sanderbuyck.com